ASI to Announce New BTL Listings and 5 Year Product Warranty at AHR Expo
San Ramon, CA, January 22nd, 2015 – ASI Controls announces BTL-ASC listings for the ASIC/1-6100 family of controllers for VAV/VVT applications in BACnet MS/TP networks. ASIC/1-6100 controllers are backed by a 5 year limited product warranty that also covers other ASIC/1 and ASIC/3 controllers.
"We are very excited to show our BTL listed VAV/VVT controllers at AHR Expo!" stated ASI Controls President Paul Chapman, "A BTL certification tells customers the product meets the standards for open interoperability, customers get BACnet MS/TP VAV/VVT products that work well together backed by a 5 year limited warranty and comprehensive ASI support."
"Customers want durable, open solutions that can easily scale and incorporate future technologies," explained sales manager Bill Messick. "Only ASI Controls is committed to supporting both BACnet and OPC while delivering forward and backward compatibility between product generations."
Product datasheets are available on the ASI Controls website for ASIC/1-6100 controller models with integrated damper actuators and for models designed for retrofit applications.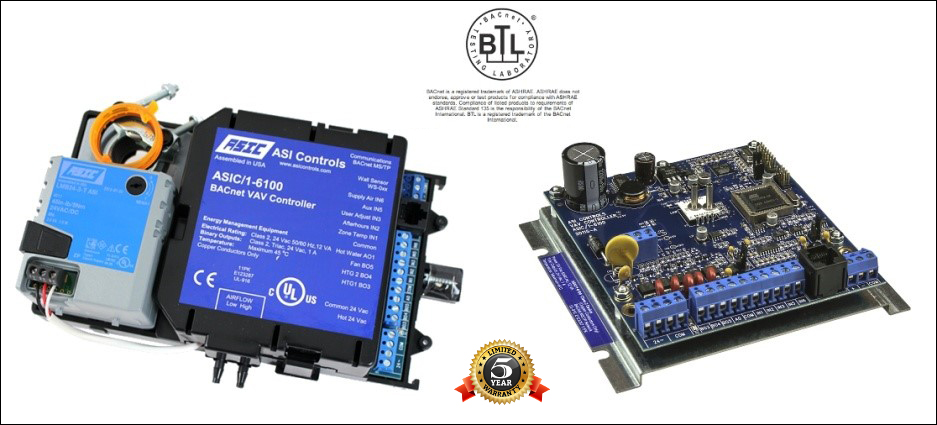 ASI Controls provides state of the art digital controls to manage, monitor, and control building environments. ASI Controls products operate and monitor facilities around the world, including nationwide property networks, commercial and industrial buildings, shopping malls, hospitals, and educational campuses, and as original equipment in Chillers and other HVAC equipment.
March 9, 2015 – (updated) BTL certification was just awarded to the new ASIC/1-8100 BACnet Rooftop Package Unit (RTU) and Heat Pump controller.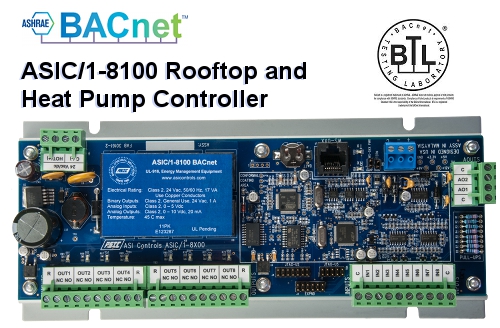 For more information visit www.asicontrols.com or email info@asicontrols.com.
Contact:   Bill Messick, Sales Manager or Connor Chapman, Marketing Associate
Phone:     (925) 866-8808 x121 -or- (925) 866-8808 x131
Email:      sales@asicontrols.com