The idea of commitment to one company seems quaint in an age where the average person spends about four years at a job before moving on. Mike Fong knows a thing or two about commitment though. This July marks Fong's twentieth anniversary with ASI Controls. Through his journey from technical support to Chief Operating Officer he has seen a lot of change, but it's the things which have remained the same that kept him committed to ASI.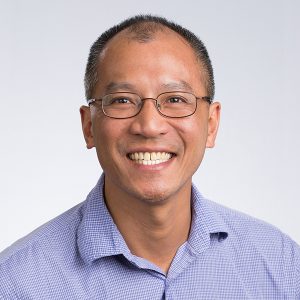 Fong joined ASI Controls in 1998 after completing his degree in mechanical engineering at UCLA and a stint working with an Andover dealer in the San Francisco Bay Area. Through Dave Thompson, a former employee, Fong met Bill Chapman who hired him to serve as a technical support representative.
"It was a landmark time at ASI," Fong said. "ASI Expert was close to release. Before that, we had software tools that ran in DOS. Our focus was more on OEM than resellers. The release of  Expert was a watershed moment for us because we could connect with customers who did not have their own controls department."
Fong played a critical role in shaping the direction of technical support. He created some of the first technical resources and helped to develop ASI's Essential Training class, which he still teaches. Initially, customers traveled to San Ramon for training. Fong noticed the challenge of convincing east coast customers to make the trip. He suggested that ASI take its training program on the road.
"I take a lot of pride in establishing our training program and building it to what it is today," Fong said. "Our attendees frequently praise us for the quality of the classes. I think the impression we make on our customers during training is second to none in terms of what we provide, both in, and out of the classroom."
As Fong's career grew so did his responsibilities. He took on increasingly larger roles as Technical Services Manager, VP of Technical Services and finally Chief Operating Officer. While much has changed for Fong, one thing has remained the same— valuing the relationship with customers and understanding them on a personal level. Fong owes much of his customer-first mindset to ASI's founder, Bill Chapman, who was his mentor.
"Bill Chapman set an example," Fong said. "I probably learned more from him than anyone else about how to treat customers. We may not always do what is best for us from a financial standpoint but we will never have trouble sleeping at night because we know we are treating our customers right."
Chapman' words after a particularly difficult support call have stuck with Fong through the years. "Not everyone thinks like you do, it's up to you to understand how they think and present it in a way which resonates for them."
Fong has applied that mantra throughout his career toward each interaction with customers. His focus remains helping them solve problems and passing on the knowledge he has acquired throughout his tenure at ASI.
"Mike's knowledge, diligence and expertise are highly valued by customers. His logical, patient, problem solving nature and attention to detail make him the go-to guy," Francis Chapmen, CEO said. "His professionalism inspires the rest of the team to deliver the outstanding support ASI is known for."
Fong credits ASI's emphasis on people as part of what kept him with the company. It allowed him the opportunity to also balance his commitment to his family.
"This is a family first kind of company," Fong said. "I have a son with special needs and they have always given me leeway to attend to that when I need to."
While Fong has had plenty of opportunities to reflect on the past 20 years his focus remains on the future. His steadfast presence keeps ASI moving toward developing better and more efficient products and creating training and service initiatives which make them easier to install.
"I really believe in listening to our customers," Fong said. "We understand that the market is changing. Today's installers are often less experienced than their predecessors, so we are working toward cutting the learning curve and time-to-install with things like auto serial numbering, wizards, and wireless technology."
Fong helped build ASI Controls into what it is today. To say anything less would be a disservice to the impact he has made over the last two decades. He remains the ever-present engine helping to push the company forward, one satisfied customer at a time. ASI Controls offers its warmest congratulations to Mike Fong on his 20 years of dedication and looks forward to more years of unparalleled service.