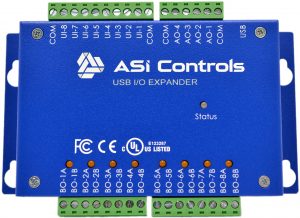 ASI Controls is pleased to announce its new ASIC/3 USB-IO Expander is currently undergoing beta testing. The USB-IO Expander provides a low-cost, easy-to-implement IO expansion for the ASIC/3 programmable controller family.
Powered solely by the host controller, the USB-IO allows users to immediately start using eight additional analog inputs, eight relay outputs, and four analog outputs. By connecting the Expander to an ASIC/3 controller, all of the new inputs and outputs are automatically added to the host controller's IO count. This new IO looks identical to the host's native IO and is configured using Visual Expert.
A standard USB 2.0, A-Male to Mini-B cable carries both communications and power. This allows for easy implementation— saving wiring and installation costs. A second USB-IO Expander can be added with the use of a standard USB powered hub.
ASI plans to take the first shipment of from its manufacturing partner, Electronic Design & Manufacturing in Q1 of 2019.