JASIC OPEN SYSTEMS ARCHITECTURE FOR INTEROPERABILITY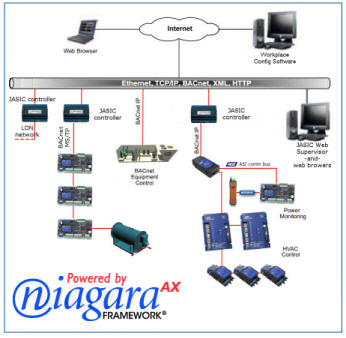 Support for BACnet™, LonWorks™, Modbus, oBIX, and other industry standards
Embedded web server front end for browser-based monitoring and control
Graphics library for assembling custom animated 3D images
Easily integrate equipment and systems using open industry standard protocols
The ASI Controls JASIC product series is built on the Tridium® Niagara AX™ Framework, providing open systems interoperability through a powerful Java-based  application framework supporting industry standard open protocols including BACnet™, LON™, Modbus, oBIX and more.
System integrators and value-added  resellers can leverage the Niagara Framework™ open integration options to seamlessly combine ASI Controls  ASIC/1 terminal unit controllers and ASIC/2 configurable controllers into  existing BACnet, LON, or other open protocol networks.
All compatible controllers offer convenience and security of an embedded web front end. Configuration is done using a web browser, optionally supporting remote configuration of any networked JASIC controller. The JASIC controller can forward alarm and event annunciations from connected sub-networks.  BACnet/IP tunneling enables configuration of any ASI Controls device on the network using the same Visual Expert graphical configuration software as used to configure  ASIC/1 terminal unit controllers and ASIC/3 configurable controllers
JASIC Web Supervisor offers a software-based integration solution for applications requiring  JASIC Open System trend data archiving off of the device, or systems with multipe JASIC Integration Controllers in a network where a single unified front end is required. JASIC Web Supervisor  provides centralized system data storage, logging & archiving, and optional alarm & event reporting.
ASI Controls JASIC products are powered by the Niagara Framework™, a software platform designed to integrate diverse systems and devices into a seamless system.  With over 180,000 installations customers can count on NiagaraAX solutions for performance and reliability.  Niagara delivers the promise of open systems interoperation with support a wide range of interoperability standards including BACnet™, LonWorks™, Modbus, and oBIX™ protocols.
NiagaraAX™ creates a common environment that connects to almost any embedded device imaginable, regardless of manufacturer or communication protocol. NiagaraAX™ models the data and behavior of the devices into normalized software components, providing a seamless, uniform view of device data to the enterprise via a wide variety of IPbased protocols, XML-based connectivity options, and open API's, creating an N-1 Architecture
NiagaraAX, Niagara Framework, and JACE are registered trademarks of Tridium Corporation.   BACnet is a registered trademark of ASHRAE.   LON and LONworks are registered trademarks of Echelon Corporation.   oBIX is a trademark of OASIS.   All other trademarks and copyrights are the property of their respective owners