JASIC OPEN SYSTEMS ARCHITECTURE FOR INTEROPERABILITY
Support for BACnet™, LonWorks™, Modbus, oBIX, and other industry standards
Embedded web server front end for browser-based monitoring and control
Graphics library for assembling custom animated 3D images
Easily integrate equipment and systems using open industry standard protocols
The ASI Controls JASIC product series is built on the Tridium® Niagara N4™ Framework, providing open systems interoperability through a powerful Java-based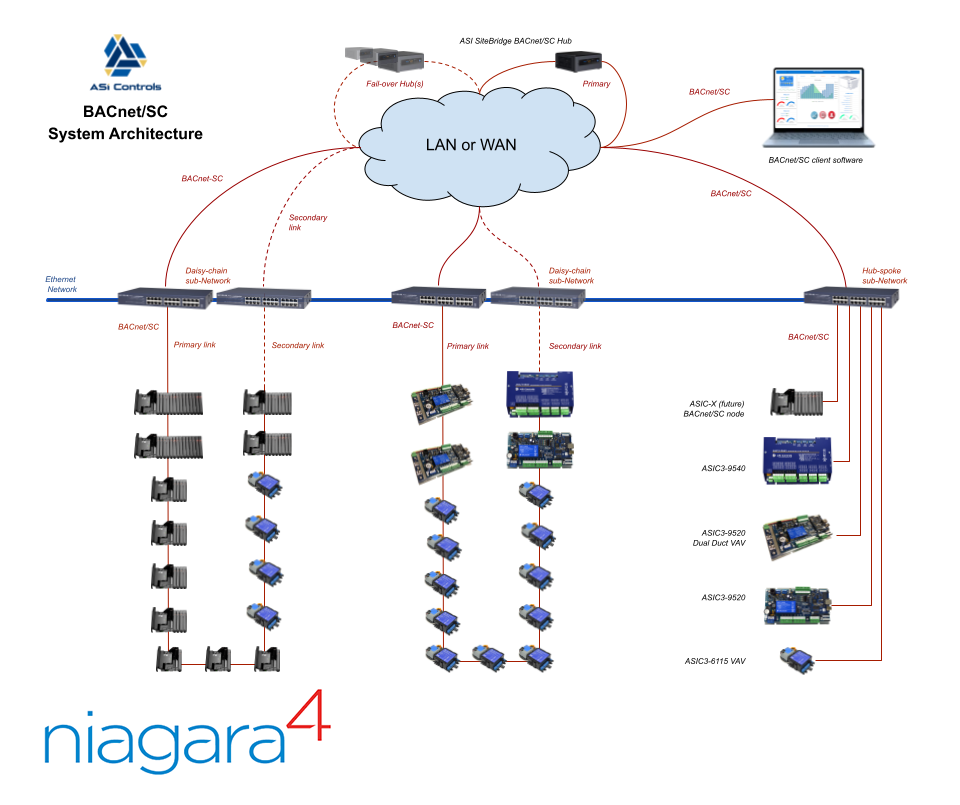 application framework supporting industry standard open protocols including BACnet™, LON™, Modbus, oBIX and more.
System integrators and value-added resellers can leverage the Niagara Framework™ open integration options to seamlessly combine ASI Controls  ASIC/1 terminal unit controllers and ASIC/3 configurable controllers into existing BACnet, LON, or other open protocol networks.
All compatible controllers offer the convenience and security of an embedded web front end. Configuration is done using a web browser, optionally supporting remote configuration of any networked JASIC controller. The JASIC controller can forward alarm and event annunciations from connected sub-networks.  BACnet/IP tunneling enables configuration of any ASI Controls device on the network using the same Visual Expert graphical configuration software as used to configure  ASIC/1 terminal unit controllers and ASIC/3 configurable controllers
JASIC Web Supervisor offers a software-based integration solution for applications requiring  JASIC Open System trend data archiving off of the device, or systems with multiple JASIC Integration Controllers in a network where a single unified front end is required. JASIC Web Supervisor provides centralized system data storage, logging & archiving, and optional alarm & event reporting.
JASIC Niagara 4 Supervisor is a java-based controller supervisor that works seamlessly with ASI Controls hardware thought the connection of our ASI N4 Driver. JASIC Niagara 4 Supervisor provides an up-to-the-second snapshot of building performance via a web-based graphical interface. In addition, it provides users with analytics, data logging, trending, alarms, data archival, master scheduling and a host of other features. It also offers a suite of graphical engineering tools for application development.
JASIC NIAGARA 4 SUPERVISOR FEATURES
Centralized system management
Quickly navigate to individual buildings using tags to diagnose problems
Compare data between buildings
Export system data to external databases
Integrate BAS to other enterprise applications
Integrate to other applications, such as work order management, analytics, etc.
Single tool used to program JACE, Niagara Edge controllers and Supervisor
Remotely back up JACE and Edge applications to Supervisor
Batch provisioning of JACE and Edge firmware upgrades, security credentials, applications and commissioning options from Supervisor
Robust built-in analytic capabilities supported by standard Niagara components and visualizations
Includes Niagara Analytics, adding data source, functional and
Mathematical programming blocks to enable sophisticated analytic algorithms
Easy Configuration with ASI IntelliTASC
The IntelliTASC Niagara module provides graphics configuration and management for ASIC/1 controllers.  IntelliTASC increases set up speed and configuration by allowing for:
Automatic addition of a complete set of device points specific to each controller's programmed personality
Automatic Haystack tagging of points
Automatic configuration of PxView graphics page appropriate for each controller's programmed personality
Automatic configuration of alarm and history for Zone Temperature
And many additional features
Niagara 4, Niagara Framework, and JACE are registered trademarks of Tridium Corporation.   BACnet is a registered trademark of ASHRAE.   LON and LONworks are registered trademarks of Echelon Corporation.   oBIX is a trademark of OASIS.   All other trademarks and copyrights are the property of their respective owners