Nankang Software Park, Taipei City, Taiwan
System Integrator – Sinotek Controls – Taiwan
The Taiwan government is building an "intelligent" park designed to promote development of a high-value-added, knowledge-intensive software industry in the country.
Nankang Software Park is being developed under guidance from the ROC government, and the Ministry of Economic Affairs. Construction, management, operation, and maintenance are being carried out by Century Development Corp. The park comprises more than 2M square feet of floor space in the first phase of construction.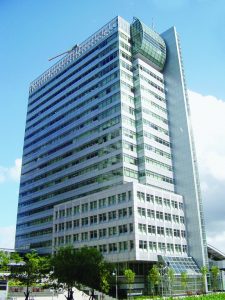 Nankang Software Park is designed entirely to meet the needs of software personnel. HC Yu and Associates, Richmond, VA designed the mechanical, electrical, plumbing, telecommunications and security systems for the facility. Distribution of these resources are via raised access floor system to personal environmental modules in each cubicle.
For companies in a high-tech office environment, energy- efficient electrical systems and high operating efficiency are prime concerns. Reliable supporting systems are even more important. The park will have a fully integrated facility control and management system to assure optimum functioning of all equipment and electricity supply as well as plumbing, telecommunications, security, and air conditioning facilities. It will use limited co-generation to provide an economical uninterruptible power supply.
Sinotek Controls has been selected to supply the airside control system comprising the air handling systems, more than 10,000 DDC  individual occupant control zones and a comprehensive electrical sub-metering system incorporating many hundreds of metered points. The ASI DDC system connects directly to a Wonderware InTouch based Building Integrated Network System encompassing the 5 main buildings. The design of the facility included the stipulation that all systems must be fully compatible with communication, networking and system interface standards in wide use in the data processing industry. ASI Controls use of DDE, NetDDE and it compatibility with standard office network protocols such as TCP/IP was a key factor in its selection for this truly open system.